-Please join us for Worship on Sundays at 10:00 AM-
Music at First Presbyterian
Music is an integral part of our worship services. There are numerous ways to participate in sharing music during worship – the chancel choir, soloists and small groups, sing, and play regularly. We also host musical programs such as our Fall Music Festival and other musical events, which are open to the community.
Organ Our five-rank pipe organ was constructed by MP Moller, Inc., of Hagerstown, MD, and dedicated on January 27, 1952. It serves as accompaniment to the choir and hymn singing, as does the grand piano. Our choir explores musical styles of many different traditions, seeking always to enhance our worship experience. Under the leadership of Music Director, Natascha Reich, our musicians find encouragement to explore new musical styles and techniques.
Chancel Choir 
Our choir contributes music to regular Sunday services, feast days, and special events. Besides supporting congregational hymn signing, the choir's main task is performing anthems on selected Sundays. A diverse repertoire, ranging from Renaissance motets to American Spirituals and beyond, promotes a wide variety of ways to worship God through music.  The choir welcomes members of all ages and levels of experience. Our
enthusiastic singers take an active role in choosing anthems and deciding upon performance dates and projects. Collaborative activities with the Cottage Bells, or with other FPC ensembles and soloists happen frequently and are an enjoyable experience for both musicians and listeners.
Bell Choirs
The Cottage Bells, our adult bell choir, perform regularly during our worship services. The only requirements to join the bell choir are enthusiasm and the ability to count to four (well, sometimes we have to count to eight, but rarely). The Cottage Bells have not only performed within the Cottage Grove community, but have also traveled to Washington and Ashland, Oregon to perform. Watch some performances here: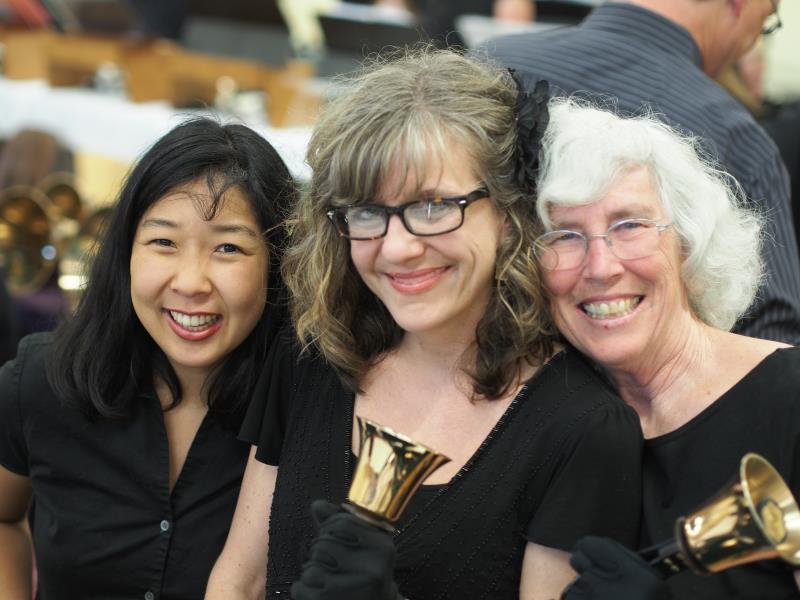 All Creatures of Our God and King
Welcoming Ukuleles . . . and More!
The "Ukurists": No matter what type of ukulele you have and what level of playing ability you offer – we welcome everyone with a desire to make music with us! We spend some time working on strumming and picking patterns and synchronizing styles, selecting pieces to learn for church, and having a lot off fun in the process. We share musical resources and encourage one another to build skills and confidence.
We usually meet after church on the third Sunday of every month from 11:30 to 12:30, but that schedule frequently varies according to other commitments of our members and church events. So please contact the church office to get onto our email rehearsal chain (Anne Montgomery or Patti Noe will send you a welcome message). Our practices are relatively informal, and we are always eager to add new music and musical styles to our repertoire.
The PresBeats
Various combinations, large and small, of (mostly) strings come together for special music in creative ways as well. Players of ukuleles, guitars, mandolins, bass guitars, and dulcimers are joined by a keyboard, occasionally a melodica or recorder or harmonica — and who knows what else. If you have a talent and instrument to add to this eclectic mix, please join us to explore other ways to bring music into our services.
The PresBeats meet when we have a specific plan for special music — and whenever our multitasking musicians can work out a schedule. So please contact the church office so that we can contact you when we have a project under way.
Annual Band Camp
Every summer, The First Presbyterian Church of Cottage Grove hosts an annual Band Camp for local children and youth. This is an especially valuable event for high school musicians seeking to hone their skills — and enjoy making music.
The church also hosts the Cottage Grove Community Band, an intergenerational orchestra for people in the Cottage Grove area who like to make music. This band has, for the past several years, opened for the Eugene Symphony when it offers a concert in Bohemia Park during the summer.
Both of these groups, the Band Camp and Community Band, culminate their summer with a concert for friends and family here in the church.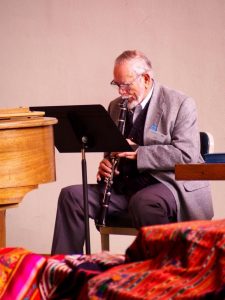 The Band Camp was founded through the initiative of our church member, Bob Dill, who passed away in December 2016. Following is a recording of his final clarinet performance for us. His good work will live on in our band camps, and in his rich legacy of teaching and mentoring musicians of all ages through a long and dedicated career.
Annual Choral Camp Another summer camp hosted by the church is the annual Choral Camp for those youth who wish to learn to sing and enjoy the vocal experience. Started by one our talented members, Joanna Newton, this camp has grown over the years. They finish their camp each year with a concert for friends and family.
---